Introducing Quik-Tool
SURFACE MOUNT TOOLING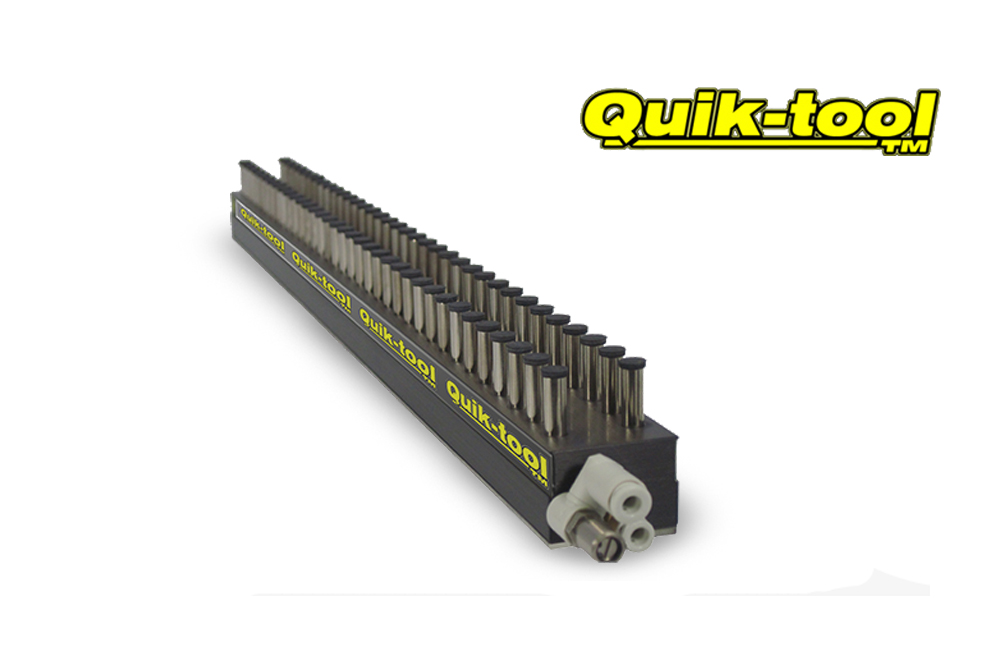 We set out to make Quik-tool™ the the best performing automatic surface mount tool on the market. Not to be outdone, we challenged ourselves to make it the best value too. Mission accomplished.
EASE OF USE
The basic option for most PCB manufacturers is to use standard magnet based support pins to support their circuit boards during screen printing and component placement. This may be less expensive, but is very unreliable and operator dependent - costing manufacturers valuable time. With Quik-tool, what used to take 10-20 minutes now can be accomplished in under 30 seconds.
MAXIMIZE THROUGHPUT
Quik-tool is the ideal option for manufacturers who require a high level of changeover for low volume/high mix production. Quik-tool will increase the throughput of your lines, since operators will not be spending time setting the pins in the right locations.
AUTOMATIC OR MANUAL MODE
Quik-tool runs in both automatic and manual mode, eliminating the need to make manual adjustments when changing out modules. It runs on the most simple and reliable control system available, so maintenance worries are a thing of the past.
HIGH DENSITY PIN PITCH
We've increased the holding force per pin by 400% over the competition, and high-density pin pitch comes standard with Quik-tool. Our pins have more support area, and since we use heavier pins, they will drop easier after reset. We have also isolated the the pistons from the pin shaft to significantly reduce maintenance intervals.
---
AJÁNLOTT TERMÉK

---