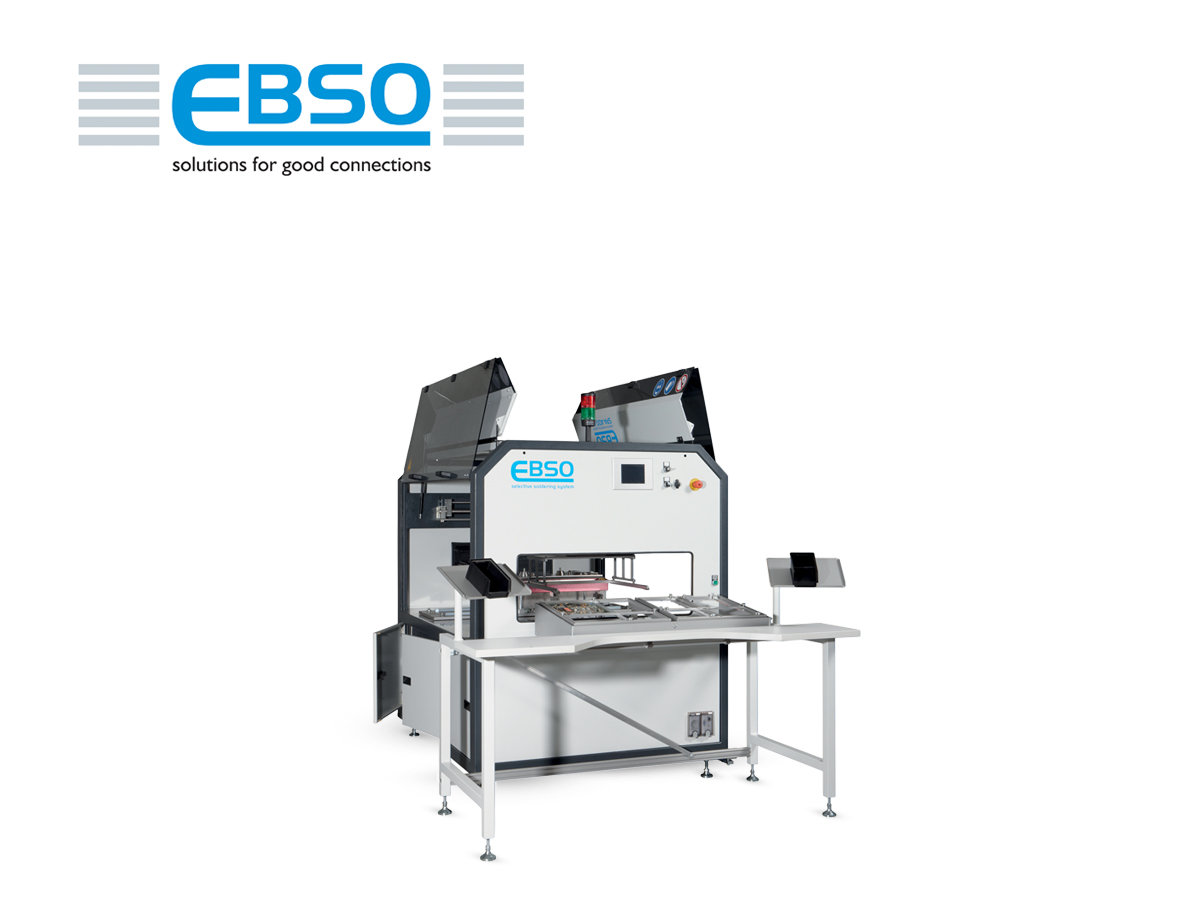 Reproducible quality at highest ROI, easy operation and highest flexibility
The EBSO SPA 340-EVO / SPA 340-EVO+ is the most transparent and flexible selective soldering system on the market. Developed for practitioners. 100% Made in Germany. 100% precision.
The xyz-axis system positions the assembly over the Microdrop Fluxing Unit, the pre-heater and the solder module. Everything is mounted on a leveled working area, which gives the SPA its unrivalled transparency and maintenance friendliness.
The EBSO-Concept offers you the capability to flux or solder two assemblies simultaneously and in consequence the best ROI due to the outstanding through put/footprint ratio.
The with nitrogen fumigated high quality titanium solder pot and the titanium solder pump unit warrant extreme longevity and are best fit for any solder alloy including leaded tin. The unique EBSO FAST REMOVE MECHANISMS make sure you don't waste any time for daily routines.
The EBSO SPA excels on maximum availability at minimal maintenance expenses. The open and tidy working area provides best accessibility and visibility for process observation and maintenance.
EBSO offers a wide range of solder nozzles in different heights, diameters and geometries. Be it wetable or non-wetable nozzles. At request we design and manufacture customized nozzles in any shape or form, in order to increase your through put to the absolute maximum.
The EBSO Offline Editor is the SPA-EVO programming software which enables you to program every flux and solder point with relaxing ease. Simply point and click on the graphical interface and you are almost good to go.
On top of that we offer a wide range of top notch options in order to improve your cycle times, your process security or the utility.
FEATURES
Solder Area up to 340x340mm / 340x440mm* (13.4x13.4 inch / 13.4 x 17.3 inch*)

PCB size with Universal-Solder-Fixture 300x300mm / 300x400mm* (11.8x11.8 inch / 11.7x15.7 inch*)

CNC-Control (internal storage for 100 solder programms)

Easy operating by color touch screen

EBSO Offline-Editor for graphical programming without programming skills

3 axis system with servo drives (repeat accuracy ±0.02mm)

Configurable with solder angle 0° or 7°

EBSO Microdrop Fluxing Unit (0.3mm nozzle) for precise and economical application of flux

Titanium solder pot 260 for approx. 12kg tin. (leaded and leadfree)

Machine housing
high quality steel welded construction
Stabiles hochwertiges Schweißgestell
ESD powder coating
Space saving glass gull-wing doors
Huge storage space for accessories and maintenance material
Two level WERMA signal light
Multiple montitoring functions
Light grid (Security)
Solder level
Solder temperature
N2 flow
N2 pressure
Air pressure
Flux level control
Maintenance message
Solder wave height control (optional)
Flux application control (optional)
Solder fixture recognition (optional)
Exhaust air sensor plug&play (optional)
Starter package
3 pcs nozzle tips. Wetable without coating and repairable!
1 pc nozzle socket for tips
1 pc universal solder fixture. Milled out of one piece for highest precision
Accessories
Nozzle key
Pump key
Solder utensils
Preperations
USB-Port for barcode reader for program selection
D-SUB-Connector for placement of additional start button
Exhaust air sensor communication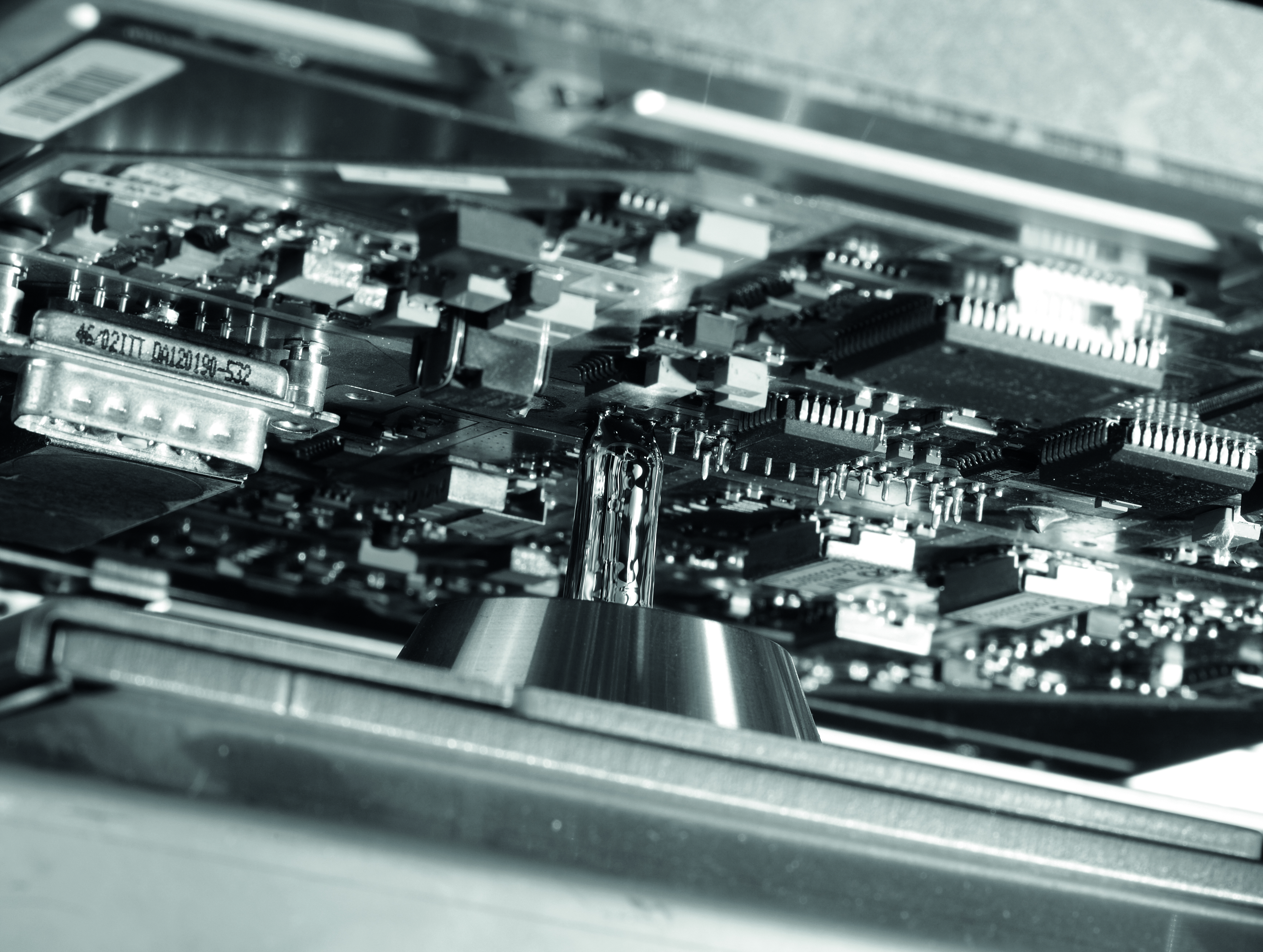 Solder Pot Features and Options

All Solderpots made of Titanium
Reliability at highest operational availability due to quick release
solder pump. Easy Change Pot system for lead and lead free production. Single solder pot with just 20 kg solder capacity. Soldering over 2 Solder pots. Dual Solder nozzle for simultaneous soldering



Programming the SPA
Offline Editor incl. Import functions and Picture Editing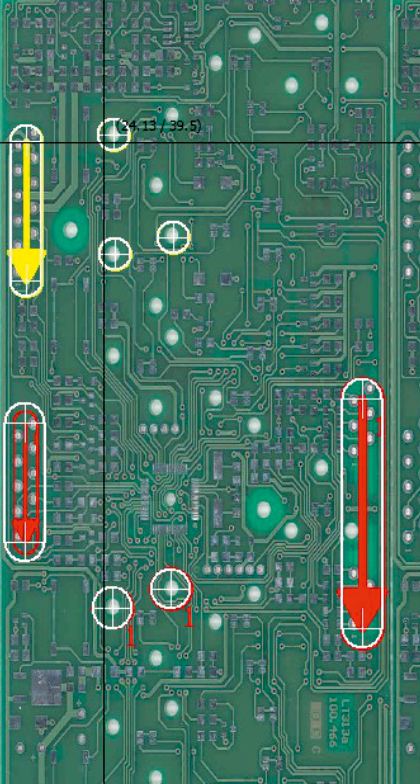 Easy point & Click Offline Programming if solder programs. No production Free adjustments of all solderparameters.
Entering of solder positions with simple meassuring of X and Y position of Solderjoint or via
Import of CV Data of i.e. Drill Gerber Datas. Simply scan a bare PCB. Point and Click on the image where you want to solder.
The software automatically calculates the correct X and Y coordinate.
---
AJÁNLOTT TERMÉK

---