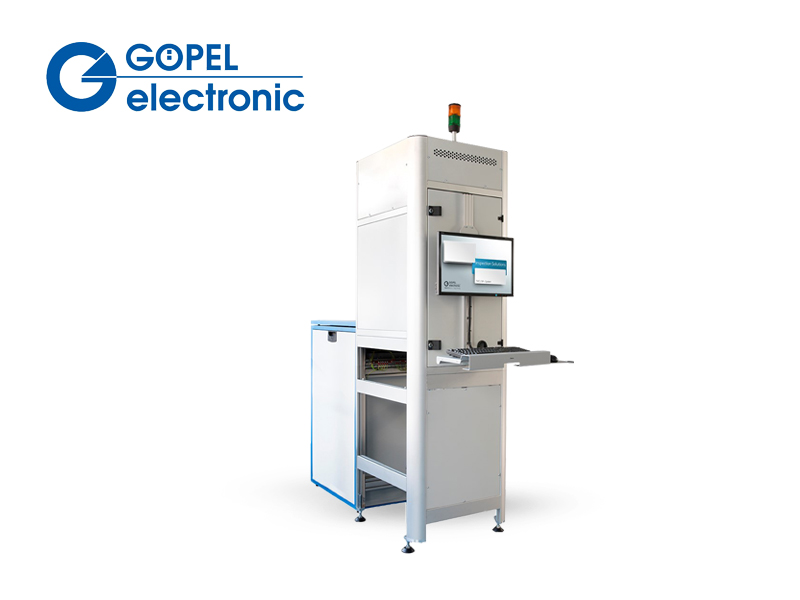 High speed AOI system based on the innovative camera module M

ultiEyeS

Unprecented inspection speed of up to 300 cm²/s

Completely wear and maintenance-free since no x/y-axis movement of the camera head is required

Minimized footprint

Component height / depth of field up to 100 mm
Process integration
The MultiCam Line can be integrated easy and extremely space-saving into the production process. A typical application is the construction of the system on an already existing conveyor. With a small footprint of only 660 mm x 760 mm a wide inspection area of 490 mm x 390 mm is covered.
Traceability – more than just a buzzword
GOEPEL electronic offers many further steps for selecting, sorting and processing. There are also several varieties of serial number detection. Therefore, produced and inspected PCBs are traceable without restriction. All results are stored in the system-specific data base and can be reused. In particular, the SPC module for statistical fault analysis is a helpful tool to identify fault types and their origin in the production process.
The new software version provides additional interfaces for connection to quality, factory and traceability systems compliant with ZVEI standard or customer-specific communication versions.
Speed
The unsurpassed test speed of up to 300 cm²/s is achieved by the use of the innovative multi-camera image acquisition module MultiEyeS. Without any movement of the camera module, the entire UUT is detected and inspected by a single snap. By the elimination of an axle system, the MultiCam Line is moreover completely wear and maintenance free.
Software
The PILOT AOI software provides powerful functions for component recognition, solder joint and short inspection, OCR, colour verification as well as solder paste inspection.
In addition to the intelligent component recognition based on automated characteristic extraction from real images, the solder joint quality is determined by a complex grey value analysis using a range of illumination types.
Technical specification
| | |
| --- | --- |
| Image Akquisition | Multi-camera array MultiEyeS with 120 megapixel |
| Colour Depth | 24 Bit |
| Depth of Field | 100 mm |
| Integration | Into conveyor |
| Inspection Scope | Presence, Location accuracy, Polarity and labeling (OCR) of THT components |
| Lighting System | TOP LED |
| Inspection Speed | bis zu 300 cm2/s |
| Inspection Area | 490 mm x 390 mm / Larger areas possible |
| Max. Inspection Height / Field of Depth | 100 mm |
| Component Clearance | 100 mm |
| Software | PILOT AOI |
| Electrical Connection | 230 VAC |
| Dimensions Basic System (W x H x D) | 660 mm x 760 mm x 2475 mm |
---
AJÁNLOTT TERMÉK

---